Planning for Success
Last year, our team at Captivate Media + Consulting helped students and staff at more than 50 high schools across the country with their graduation ceremonies. We are ready to help more of you this year!
While many people are eager to get back together in person, some of your students, parents and staff members will not be able to attend in person events for medical and safety reasons. In order to provide equitable access to these important experiences, you need to plan for people to participate in events that may be both online and in person.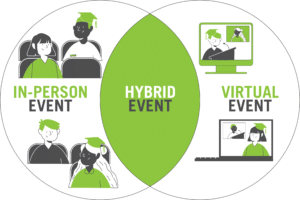 Most spring school events in 2020 were held online. This year, hybrid events which include in-person and online elements, will present new opportunities and challenges as you look towards graduations, student recognition programs and retirement ceremonies.
The Captivate Media + Consulting team can help advise, edit and distribute your recorded or live-streamed spring events. Putting these videos together can be time-consuming and stressful. 
We want to ensure events this spring are memorable for the right reasons, without technical difficulties.