I've spent the better part of my professional career avoiding or even running from discussions about race, diversity and inclusion. I've turned down board positions, committees and even jobs to escape from being labeled the diversity guy or the black guy who can speak for all other black people.
Most successful professionals of color can surely relate. It's a constant balancing act. On one hand, you intimately care about issues of diversity and race and want to see change and a deeper understanding of differences. On the other hand, you refuse to be put in a box and singled out as if your only talent is being the person of color in the room. Believe it or not, in 2018 this dilemma persists.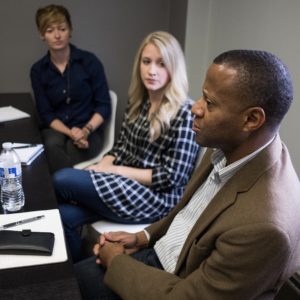 As I've matured professionally, I learned to navigate this balancing act. I got many opportunities to perfect this during my six years with Minneapolis Public Schools. I came to consider engaging diverse audiences not as another initiative, but as a critical part of our communications planning.
I've learned that the most important thing I can do is to embed my desires to impact diversity and inclusion into my existing priorities and work.
In my role at Captivate Media + Consulting, I have the same mindset. And I'm honored to work with a team of professionals, led by Jake Sturgis, who embrace differences and have a desire to tell authentic stories that influence people to take action.
That's why our team is so excited about Captivate's newest offering – Voices of Tomorrow – a new approach for schools to enter into constructive conversations about diversity, inclusion, engagement and student achievement. By using authentic student narratives, we guide hearts so minds can be moved into action.
After engaging and interviewing a cross-section of students, a video featuring student narratives is created with the eventual goal of presenting these diverse thoughts to staff members in facilitated conversations.
We believe more than ever that this approach will influence change. Just take a look at what one small group of students started in Florida a few weeks ago – an international movement based on the foundation of student voices.
With Voices of Tomorrow, I've witnessed adults change their mindsets which eventually changed their relationship with students.
I've watched teachers change how they teach a lesson to ensure they weren't embarrassing students of color. I've seen faculty advisors approach quiet, unpopular students and direct them to leadership opportunities.
We believe every school has the opportunity to create a climate and culture that embraces diversity and inclusion through student voices. That's why we are so excited about Voices of Tomorrow.
I often talk about embracing diversity and inclusion as a personal journey. We all start at different points. If you think you've made it, then you are probably lost. Voices of Tomorrow has taught me that my journey in this area is still just beginning. We all have different stories that make us who we are.
With Voices of Tomorrow, I'm learning to adjust my mindset and see the world through many different points of view.
I'm spending a lot less time wondering how people are labeling me and spending more time embracing the differences in others.
That's the essence of Voices of Tomorrow. I hope you find a little time to learn more about it.