A few months ago our team discussed producing a video that would show some of the battles, struggles and successes high school students face today. These are the internal feelings you'd never know if you were just walking down a hallway next to these students. We wanted to create a video that helped people see past the exterior and understand the importance of truly understanding. This is at the heart of our new program Voices of Tomorrow which is centered around the idea of empathy.
We partnered with staff and students at Mounds View High School to create what has become known around our office as "The Empathy Video." It was an amazing experience creating the concept, working with students, and crafting the story. And once it was finished we had this collective drive to share it with as many people as possible.
Although we knew it's a story that needed to be heard and seen, we weren't entirely convinced that is would perform well on social platforms. Normally videos that are "optimized" for social media are short, captioned and cropped to be a square so that they take up more space on a phone screen. Our video was almost three minutes long and rectangular. But we believed in the heart of the message, so I posted it to my Facebook page and anxiously awaited the response.
The response was unimaginable
I had hopes the video would be well received, but nothing could have prepared me for this response. Between my Facebook page and Mounds View High School's Facebook page, the video has been viewed over 200,000 times and shared by nearly 3,500 people in just over a month. More important is the engagement that has taken place online and in face-to-face interactions. We started a conversation, what we believe is a vital conversation.
It's been incredibly validating to know the stories of the next generation are valued and meaningful and that people are rallying to give students the platform to use their voices.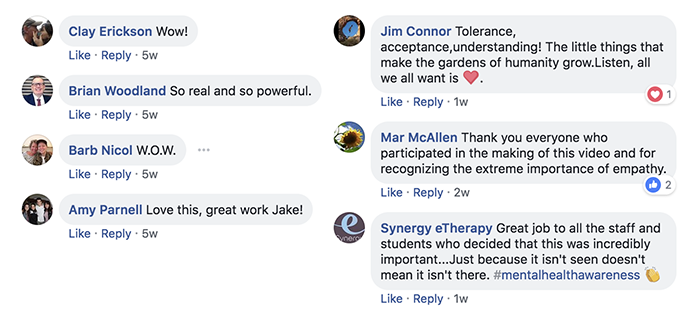 We do a lot of research on current video trends for social media. And by all accounts, this video breaks a lot of the rules for what should make a good Facebook video. It's longer than 60 seconds and it isn't formatted to take up more space on a phone screen.
So why did our three minute video get over 3,500 Facebook shares?
Both short and long formats have value
The ideal length of your video depends on the content, the context, and the viewer. Keep in mind, content is still king. To break through the noise in a world of increased scrolling speeds and fragmented customer focus, you must tell an interesting story. When deciding between which format to use, as marketers, we should first consider the goal of our campaign.
Short Form Video: If the main goal is video completions and click throughs when measuring video campaign effectiveness – keep it under 60 seconds and optimize it for social media by using graphics, formatting your video to square proportions and using enticing visuals.

Long Form Video: Beyond two minutes, focus entirely on the content. If viewers would benefit from brevity, go short. If they'd benefit from depth, don't cut just for the sake of cutting. Long form video is often touted as a better way to engage your audience, with greater emphasis on story. If your goal is to start conversations, like our empathy video, long-form video can be very effective at capturing attention.
Something to think about
Compelling and engaging videos are driven by great content. A character's truth, a resonating message or a shared experience. A video going viral can't ever be 100% predicted. But a story that makes you feel something tends to leave a lasting impression. That's one of our goals as storytellers.
Voices of Tomorrow is all about giving students a platform to tell their stories and leveraging the feeling of empathy to transform adult mindsets. That's what we've seen this video do both online and in classrooms.
-Jake Sturgis