[et_pb_section transparent_background="off" allow_player_pause="off" inner_shadow="off" parallax="off" parallax_method="on" custom_padding="0px|0px|0px|0px" padding_mobile="off" make_fullwidth="off" use_custom_width="off" width_unit="off" custom_width_px="1080px" custom_width_percent="80%" make_equal="off" use_custom_gutter="off" fullwidth="on" specialty="off" admin_label="section" disabled="off"][et_pb_fullwidth_slider show_arrows="on" show_pagination="on" auto="off" auto_speed="7000″ auto_ignore_hover="off" parallax="on" parallax_method="off" remove_inner_shadow="off" background_position="default" background_size="default" top_padding="100px" bottom_padding="100px" hide_content_on_mobile="off" hide_cta_on_mobile="off" show_image_video_mobile="off" admin_label="Fullwidth Slider" custom_button="off" button_text_size="20″ button_border_width="0″ button_letter_spacing="0″ button_use_icon="on" button_icon_placement="right" button_on_hover="on" button_letter_spacing_hover="0″ db_height="500px" disabled="off"][et_pb_slide heading="Fear of Flying" button_link="#" background_image="https://captivatemedia.us/wp-content/uploads/2018/03/Captivate-Pattern.png" background_position="center" background_size="default" background_color="rgba(0,0,0,0.47)" use_bg_overlay="on" bg_overlay_color="rgba(0,0,0,0.33)" use_text_overlay="on" alignment="center" background_layout="dark" allow_player_pause="off" text_border_radius="3″ header_font="||||" body_font="||||" custom_button="off" button_font="||||" button_use_icon="default" button_icon_placement="right" button_on_hover="on" disabled="off"]
How I'm getting out of my comfort zone and growing
[/et_pb_slide][/et_pb_fullwidth_slider][/et_pb_section][et_pb_section transparent_background="off" allow_player_pause="off" inner_shadow="off" parallax="off" parallax_method="on" custom_padding="54px|0px|54px|0px" make_fullwidth="off" use_custom_width="off" width_unit="off" custom_width_px="1080px" custom_width_percent="80%" make_equal="off" use_custom_gutter="off" fullwidth="off" specialty="off" admin_label="section" disabled="off"][et_pb_row make_fullwidth="off" use_custom_width="off" width_unit="off" custom_width_px="1080px" custom_width_percent="80%" use_custom_gutter="off" gutter_width="3″ allow_player_pause="off" parallax="off" parallax_method="on" make_equal="off" parallax_1="off" parallax_method_1="on" parallax_2="off" parallax_method_2="on" parallax_3="off" parallax_method_3="on" parallax_4="off" parallax_method_4="on" admin_label="row" disabled="off"][et_pb_column type="3_4″ disabled="off" parallax="off" parallax_method="on"][et_pb_text background_layout="light" text_orientation="left" admin_label="Text" use_border_color="off" border_style="solid" disabled="off"]
The smell of freshly brewed coffee mingles with the hum of people chatting about everything from real estate to upcoming exams as I sit in Denver typing on my laptop at Starbucks. I'm out here for a brief 24 hours filming for a client, not a lot of time to explore the sights or get much sun. But we have an hour break right now, so I'm drinking a cappuccino and listening to my favorite songs — finding a sense of home even while being hundreds of miles from Minneapolis. Peaceful moments like this are important right now, especially because I hate flying and I have two flights to get back to Minneapolis tonight. So coffee is currently staving off anxiety.
Comfort zones are a funny thing. We all know that life doesn't let us stay in our comfort zones, nor do we grow while in them. It's through stretching ourselves and being uncomfortable that we become better, more skilled, more empathetic, etc.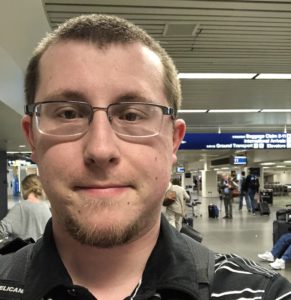 At the beginning of the year, Jake asked us all to choose a word that would represent our personal goal/journey for the year. Mine was STRETCH. I was starting a new position with a larger team and being asked to manage people and projects when I had previously only ever had to really manage myself. I knew it would be hard, that it would stretch me. But I wanted to lean into that discomfort and become more professionally limber and agile.
Four months in, I've been stretched well beyond what I would have been capable of before embracing this journey. There have been conflicts and disagreements, but triumphs too. We're growing in the type of work we are doing and the number of clients we serve, and that growth, in turn, stretches me a little more each day. The great thing about the painfulness of stretching is it has a cumulative payoff. Eventually everything becomes a little bit easier.
So yeah, I'm going to finish having a great shoot with our client here in Denver, grab some food, and then hop back on a plane and try to not let my worries get the best of me. And the good thing is that next week when we head out to Boston for a couple days of filming, those flights will be a little bit easier.
How have you been stretched this year so far? Maybe it's an increase in work duties, family responsibilities, personal growth, overcoming fears?  Sometimes after we stretch we can get comfortable doing things we used to be afraid of. I encourage you to find ways in your life to keep stretching.
-Andrew Coons
[/et_pb_text][/et_pb_column][et_pb_column type="1_4″ disabled="off" parallax="off" parallax_method="on"][et_pb_text background_layout="light" text_orientation="left" admin_label="Text" use_border_color="off" border_style="solid" custom_margin="||0px|" custom_padding="||15px|" disabled="off"]
Recent Posts
[/et_pb_text][et_pb_divider color="#bfbfbf" show_divider="on" divider_style="solid" divider_position="center" divider_weight="1px" hide_on_mobile="on" admin_label="Divider" disabled="off"] [/et_pb_divider][et_pb_cpt_archive post_type="post" fullwidth="on" posts_number="10″ meta_date="M j, Y" show_thumbnail="off" image_size="thumbnail" image_url="post" image_target="same" show_content="none" show_more="off" show_author="off" show_date="on" show_comments="off" show_pagination="on" offset_number="0″ use_overlay="off" background_layout="light" use_dropshadow="off" admin_label="ET CPT Archive" text_font_size="14px" text_letter_spacing="0px" text_line_height="1.5em" headings_font_size="30px" headings_letter_spacing="0px" headings_line_height="1.5em" meta_font_size="14px" meta_letter_spacing="0px" meta_line_height="1.5em" use_border_color="off" border_color="#ffffff" border_width="1px" border_style="solid" custom_margin="15px|||" disabled="off"]
<div class="et_pb_posts clearfix et_pb_module et_pb_bg_layout_light et_pb_cpt_archive_1″><article id="post-841″ class="et_pb_post_type et_pb_post_type_post et_pb_post et_pb_no_thumb post-841 type-post status-private format-standard hentry category-captivate-news category-uncategorized">
<h2 class="entry-title"><a href="https://captivatemedia.us/being-the-change/">Being the Change</a></h2>
<p class="post-meta"><span class="published">Jan 3, 2018</span></p>
</article><!– .et_pb_post –>
<article id="post-775″ class="et_pb_post_type et_pb_post_type_post et_pb_post et_pb_no_thumb post-775 type-post status-publish format-standard has-post-thumbnail hentry category-captivate-news">
<h2 class="entry-title"><a href="https://captivatemedia.us/planning-isnt-perfect/">Planning isn't Perfect</a></h2>
<p class="post-meta"><span class="published">Nov 28, 2017</span></p>
</article><!– .et_pb_post –>
<article id="post-691″ class="et_pb_post_type et_pb_post_type_post et_pb_post et_pb_no_thumb post-691 type-post status-publish format-standard has-post-thumbnail hentry category-captivate-news">
<h2 class="entry-title"><a href="https://captivatemedia.us/2017-voting-info/">2017 Voting Info</a></h2>
<p class="post-meta"><span class="published">Oct 16, 2017</span></p>
</article><!– .et_pb_post –>
<article id="post-649″ class="et_pb_post_type et_pb_post_type_post et_pb_post et_pb_no_thumb post-649 type-post status-publish format-standard has-post-thumbnail hentry category-uncategorized">
<h2 class="entry-title"><a href="https://captivatemedia.us/social-media-strategy/">Social Media Strategy</a></h2>
<p class="post-meta"><span class="published">Oct 6, 2017</span></p>
</article><!– .et_pb_post –>
<article id="post-490″ class="et_pb_post_type et_pb_post_type_post et_pb_post et_pb_no_thumb post-490 type-post status-publish format-standard has-post-thumbnail hentry category-captivate-news">
<h2 class="entry-title"><a href="https://captivatemedia.us/workforus/">Here we Grow Again</a></h2>
<p class="post-meta"><span class="published">Sep 1, 2017</span></p>
</article><!– .et_pb_post –>
<article id="post-622″ class="et_pb_post_type et_pb_post_type_post et_pb_post et_pb_no_thumb post-622 type-post status-publish format-standard has-post-thumbnail hentry category-uncategorized">
<h2 class="entry-title"><a href="https://captivatemedia.us/social-media-video/">Social Media Video</a></h2>
<p class="post-meta"><span class="published">Aug 25, 2017</span></p>
</article><!– .et_pb_post –>
<article id="post-488″ class="et_pb_post_type et_pb_post_type_post et_pb_post et_pb_no_thumb post-488 type-post status-draft format-standard hentry category-uncategorized">
<h2 class="entry-title"><a href="https://captivatemedia.us/?p=488″>Here we Grow Again</a></h2>
<p class="post-meta"><span class="published">Apr 7, 2017</span></p>
</article><!– .et_pb_post –>
<article id="post-469″ class="et_pb_post_type et_pb_post_type_post et_pb_post et_pb_no_thumb post-469 type-post status-publish format-standard has-post-thumbnail hentry category-captivate-news">
<h2 class="entry-title"><a href="https://captivatemedia.us/autoplaying-video/">Why we didn't use autoplaying video on our homepage</a></h2>
<p class="post-meta"><span class="published">Mar 9, 2017</span></p>
</article><!– .et_pb_post –>
<article id="post-376″ class="et_pb_post_type et_pb_post_type_post et_pb_post et_pb_no_thumb post-376 type-post status-publish format-standard has-post-thumbnail hentry category-captivate-news">
<h2 class="entry-title"><a href="https://captivatemedia.us/new-brand/">Our New Brand</a></h2>
<p class="post-meta"><span class="published">Feb 20, 2017</span></p>
</article><!– .et_pb_post –>
<article id="post-340″ class="et_pb_post_type et_pb_post_type_post et_pb_post et_pb_no_thumb post-340 type-post status-draft format-standard hentry category-uncategorized">
<h2 class="entry-title"></h2>
<p class="post-meta"><span class="published">Feb 15, 2017</span></p>
</article><!– .et_pb_post –>
</div>
<!– .et_pb_posts –>
<div class="pagination clearfix">
<div class="alignleft"><a href="https://captivatemedia.us/wp-admin/admin-ajax.php?paged=2″>« Older Entries</a></div>
<div class="alignright"></div>
</div>
[/et_pb_cpt_archive][/et_pb_column][/et_pb_row][/et_pb_section]